Congratulations to all the Winners of the 22nd Annual Maine Family Business Awards.
IFOB News
By Institute for Family-Owned Business
January 24th, 2023

Maine's Top Family-Owned Businesses Honored in Front of a Record Breaking Crowd at the 20th Annual Maine Family Business Awards Gala
PORTLAND, MAINE, October 6, 2021—A diverse group of companies from across the state was honored tonight at the 21st Maine Family Business Awards gala at the Holiday Inn by the Bay, hosted by Erin Ovalle of Maine Life Media.
Presented by the Institute for Family-Owned Business (IFOB) in partnership with MEMIC, the awards recognize exemplary Maine firms that demonstrate excellence in family involvement, business success, and commitment to employees, customers and community. From 166 nominations, 40 semi-finalists competed to receive seven awards. An independent panel of judges, facilitated by Anne Hussey, partner at Quad Group and board member of Hussey Seating Company, selected the winners from among 24 finalists.
"The woman who follows the crowd will usually go no further than the crowd. The woman who walks alone is likely to find herself in places no one has ever been before."
Albert Einstein
IFOB presented its second-ever BerryDunn Lifetime Achievement Award to Harry Fraser, President of the H. G. Fraser Group, LLC, for his many contributions to the growth and development of the IFOB.
Horch Roofing of Warren received the Cumberland Crossing by OceanView Environmental Leadership Award for its exceptional commitment to sustainable practices in an industry that generates 100,000 tons of waste each year in Maine alone. In 2010, Horch Roofing began their Reroof and Recycle Program, recycling 100 percent of their roofing waste, which is converted into recycled products and paving materials.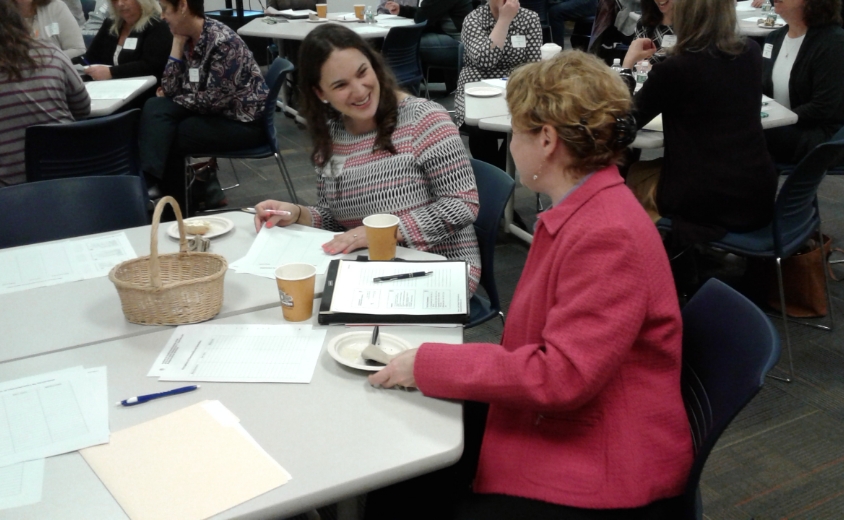 Springworks Farm of Lisbon won the People's United Bank Innovation and Technology Award in recognition of the company's proprietary, closed-loop aquaponic system where they raise tilapia that produce natural fertilizer for their organic lettuces, which in turn clean the water for the tilapia. The company produces more than 1 million heads of lettuce annually, which are sold to independent markets and wholesale distributors throughout the Northeast, as well as 60,000 pounds of tilapia sold as fresh seafood.
The Holiday Inn by the Bay First Generation Award was presented to Origin of Farmington, founded in 2011 to bring textile manufacturing back to the region. The company has emerged as an example for modern Made-in-the-USA businesses, expanding into lifestyle apparel, workwear, footwear and nutrition products that are garnering a worldwide reputation for exceptional quality. The company has innovated products like the gi, worn by martial arts practitioners and essentially unchanged for hundreds of years, earning Origin recognition as the premier gi manufacturer in the martial arts industry.
Dolphin Marina and Restaurant of South Harpswell won the Chalmers Insurance Group Customer Service Award winner. This fourth-generation business, established on land that has been in the family since 1901, has become a destination for tourists and locals alike who want to enjoy an authentic Maine experience, delicious food and unmatched customer service where guests become part of the Dolphin family. By maintaining a positive and healthy environment for employees, the Dolphin has been able to adapt and pivot over the years to maintain its success in the challenging hospitality and customer service industry.
The Shep Lee Community Service Award, named for one of the founders of IFOB, went to Volk Packaging Corporation of Biddeford, a third-generation business producing corrugated packaging and offering fulfillment services to customers across New England and the Canadian Maritimes. The company is renowned for its customer service and gives generously to countless nonprofits, especially those supporting veterans and youth. They are proud to make and distribute beautifully printed Veterans Boxes, free of charge, so veterans' homes can respectfully return the personal effects of deceased veterans to their loved ones.
Smiling Hill Farm of Westbrook received the Maddy Corson Small Business Award, presented to an exemplary business with fewer than 25 employees. The iconic dairy, with roots dating back to 1720, has evolved not only as a producer of milk, cheese, ice cream, butter and yogurt, but as a year-round destination for visitors from Maine and across the country, educating people about farming and offering four-season recreation and entertainment for people of all ages.
Zachau Construction of Freeport was named the Renys Large Business of the Year, designated for companies with more than 25 employees. Since its founding in 1969, the three-generation company has grown from a residential builder to one of Southern Maine's leading construction management companies. Zachau has emerged as a leader in sustainable building and has helped advance the use of cross-laminated timber (CLT)—a solid engineered wood panel that offers design flexibility and low environmental impact—in Maine.
IFOB presented its second-ever BerryDunn Lifetime Achievement Award to Harry Fraser, President of the H. G. Fraser Group, LLC, for his many contributions to the growth and development of the IFOB. Fraser serves on the IFOB Advisory Board and was instrumental in the transition of the IFOB from a part of the University of Southern Maine to a separate nonprofit 501(c)(3).
Puritan Medical Products Co., LLC of Guilford received the IFOB's first National Service Award in recognition of the company's Herculean efforts to meet the needs of the state and nation in the fight against COVID-19. The 100-year-old company, North America's largest manufacturer of testing swabs, was thrust into the national spotlight in 2020 as the World Health Organization declared COVID-19 a pandemic. The company increased production to seven days a week and within two months, its factory was running shifts 24/7 to meet the need.
Sign Up For Updates
Sign up to receive our emails with all the details of our upcoming events!