Opus Consulting Continues Strategic Growth with Promotion of Nick Des Lauriers to Chief Operating Officer
Press Release
By mikayla@opuscg.com
August 18th, 2023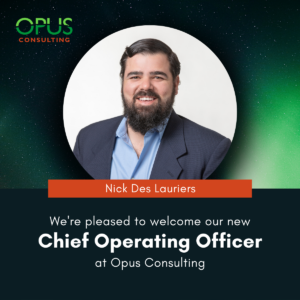 PORTLAND, ME, August 1, 2023 – Nick Des Lauriers has been promoted to Chief Operating Officer at Opus Consulting Partners LLC ("Opus Consulting"), a rapidly growing business performance advisory firm serving clients in established and emerging industries nationwide. The promotion is a recognition of Nick's exceptional leadership within the firm and his significant achievements helping clients define, meet, and exceed their strategic objectives.
As COO, Nick will oversee all facets of Opus Consulting's operations and help guide the execution of its national growth strategies. He will also continue providing his operational expertise and insight to Opus Consulting's clients in various industries.
"We are thrilled to have Nick step into the role of chief operating officer as Opus Consulting continues to experience growth and expand our client base nationwide," explained Jacques Santucci, president of Opus Consulting. "Developing this role was a natural evolution for the firm, and Nick was the obvious choice given his visionary leadership qualities, track record for client satisfaction, and significant contributions to our company's growth."
Nick has over 10 years of experience building companies from the ground-up, helping them plan for success, navigate common business issues, and overcome unique operational challenges. In his previous role as senior consultant at Opus Consulting, Nick played a pivotal role in several of the firm's largest and most visionary projects to date, including the development and openings of the first cannabis businesses owned and operated by the Seneca Nation in New York and Pokagon Band of Potawatomi Indians in Michigan. Nick is a graduate of Bryant University, and worked at one of the leading testing laboratories in New England before joining Opus Consulting.
About Opus Consulting: Opus Consulting is a business performance advisory firm that helps businesses and executive leadership teams transform, innovate, and accelerate their operations, creating solutions to empower businesses. Launched in 2009 by founder Jacques Santucci, Opus has grown to provide strategic management and turnaround services to clients facing operational challenges and uncertainty across the U.S. With a deep understanding of clients in regulatorily complex industries such as cannabis and alcoholic beverages, hospitality, food, and beverage, agriculture, energy, and with North American Indian Tribes, Opus management consultants leverage their networks and experience in uncertain environments to help businesses and executive leadership teams thrive. Learn more at opuscg.com.
For more coverage about Nick's promotion check out this article from MaineBiz. https://www.mainebiz.biz/article/opus-consulting-finds-coo-from-within-its-own-ranks?utm_source=Hootsuite&utm_medium=linkedin&utm_term=&utm_content=2a833e28-7d01-4b90-a497-d81c4a2283c1&utm_campaign=mainebiz
Sign Up For Updates
Sign up to receive our emails with all the details of our upcoming events!