Maine family businesses honored for going the extra mile
Press Release
By Institute for Family Owned Business
February 14th, 2023

Winners of the 2022 Maine Family Business Awards at Wednesday's event in Portland.
From lobsters to pet supplies, a range of Maine businesses were honored at the 22nd Maine Family Business Awards Wednesday for going the extra mile.
Winners include the Kennebec Cabin Co. of Manchester, whose owners achieved worldwide fame via the "Maine Cabin Masters" reality show, and Farmington's Franklin Printing, which was recognized for making technology upgrades during the pandemic.
The Institute for Family-Owned Business, a Portland-based nonprofit, presented the winners at a Portland event in partnership with the MEMIC Group, a Portland-based workers compensation insurance provider. Around 80% of businesses in the Pine Tree State are family-owned, according to IFOB.
This year's honorees were selected from a record 191 nominations and 32 semi-finalists that competed for seven awards. IFOB's annual awards spotlight Maine firms that demonstrate excellence in family involvement, business success and a commitment to employees, customers and community.
Frank O'Shea of Hunts Point Advisors took home the BerryDunn Lifetime Achievement Award for his years of service to IFOB as board treasurer from 2003 to 2019, and in his current capacity as a member of the advisory board.
O'Shea, who spent his 43-year career as a CPA, tax advisor and business consultant to family-owned businesses, helped convert IFOB to an independent nonprofit and has participated as a speaker and mentor in numerous IFOB programs, the organization said.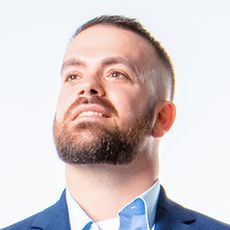 Daniel Finnemore, president and CEO, Box of Maine, is a 2022 Mainebiz Next Up/40 Under 40 honoree.
Box of Maine, a Brewer-based company that ships custom-made gift boxes with Maine goodies from Whoopie Pies to Humpty Dumpty brand potato chips to customers around the world, took home the Chalmers Insurance Group Customer Service Award.
Box of Maine's president and CEO, Daniel Finnemore, will also be honored at the Mainebiz Next Up/40 Under 40 event next month in Portland.
For his Mainebiz honoree profile, Finnemore said his "audacious goal" is to expand to southern Maine near a big coastal town and roll out a Box of New England to cover more of the region.
Other winners
Rugged Seas, of Cape Elizabeth, received the Geiger Environmental Leadership Award for its creative approach to transforming used fishing gear that would otherwise end up in landfills into bags and other products. The company donates a portion of its profits to the Maine Coast Fishermen's Association and the Maine Lobstermen's Association.
Franklin Printing of Farmington won the M&T Bank Innovation & Technology Award after upgrading systems and investing in technology during the pandemic to meet its customers' needs and keep employees working. Its purchase of an HP inkjet web press positioned the company to grow its business in health care, publishing and high-volume direct mail, IFOB said.
The Holiday Inn by the Bay First Generation Award was presented to the "Maine Cabin Masters" team's Kennebec Cabin Co., which runs a retail and online store featuring products by Maine artisans and craftspeople, as well as a bar, eatery and live music and event venue called the Woodshed.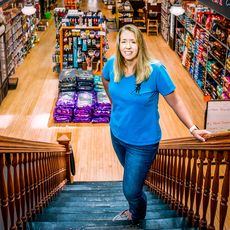 Heidi Neal of Loyal Biscuit Co. in Rockland was honored as a Mainebiz Woman to Watch in 2020.
Loyal Biscuit Co., a Rockland-based retailer of dog and cat supplies owned by Heidi and Joel Neal, was also honored at IFOB's Family Business Awards. The couple took home the Maddy Corson Small Business Award, presented to an exemplary business with fewer than 25 employees.
IFOB noted that the company has donated more than $60,000 to local shelters and rescue organizations through its Fenway Fund Grant Program.
The Shep Lee Community Service Award, named for one of the founders of IFOB, went to S.W. Collins Co., an Aroostook County lumber and building supply company with roots going back 175 years.
IFOB commended the company for supporting employees and the community in countless ways, investing in training and infrastructure and making annual grants to a host of local nonprofits chosen by community members.
Luke's Lobster was named the Renys Large Business of the Year, designated for companies with more than 25 employees.
Since 2009, Luke's Lobster has grown from a single restaurant staffed by a sole employee to over 30 restaurants worldwide, a large seafood processing facility in Saco, a branded grocery seafood business and an online market delivering directly to consumers across all 50 states. Restaurants include a Portland waterfront location opened in 2019.
The third-generation business is also a certified B Corp, a designation for meeting rigorous performance, accountability and transparency standards.
Sign Up For Updates
Sign up to receive our emails with all the details of our upcoming events!